Stefan Osthaus
President
CX & EX Thought Leader
Strategy Consultant
experience5
Stefan Osthaus
Stefan has 15 years of experience as a Fortune 500 leader. Responsible for tens of millions of customers' experiences and thousands of employees' experience, Stefan has built his career on dramatic CX improvements (specifically, that's +30 NPS points) and on work-life balance. He intimately understands the connection between a comfortable employee and a productive one. From Dusseldorf, Germany, Stefan helps leaders around the world to consider their CX and EX practices as two sides of the same coin for better business results and better word of mouth.

John Wong
Chief of Staff
SVP Client Experience
CO-OP Financial Services
.
John Wong
I am passionate about designing and delivering a great Customer Experience. Customer Success translates to an organization's growth and its people's growth. It is a win-win-win. I love leading people through influence, inspiration, and collaboration. I believe the key drivers in delivering superior Customer Experience includes:
Products that are intuitive to use, and focused on solving customers' needs.
Technology that centers on the human experience to achieve the desired outcome.
Processes that innovate new ways of thinking and getting a job done.
Great People Experience with great talent is a key lever to improve Customer Experience.
Project Management skills and infrastructure to ensure successful execution.
Diane Magers
Executive Director
Founder and CEO
Experience Catalysts.
.
Diane Magers
Passionate experience transformation executive and change agent. Sherpa for new and developing experience obsessed organizations. Thought leader and innovator for ways of engaging associates, customers and partners. Believes sustainable change requires embedding customer and experience capabilities into all parts of an organization.
Skilled in creating CX business value and systematically changing organizations to align around experience and drive financial impact. She specializes in enabling brands with skills and competencies like design thinking, journey management and value mapping to drive sustainable shifts in how organizations work to achieve results. Over 25 years of transforming experiences working in and with brands such as Sysco, AT&T, State Farm, Dale Carnegie, CommScope, Invisalign, Ciena, Freeman, Sodexho, Equifax and MoneyGram.
Diane is the Emeritus Chair and recent CEO for the Customer Experience Professionals Association, speaks and conducts workshops all over the world to help transform CX strategy into action. Diane earned a Master's in Clinical Psychology and a Masters of Business Administration. She is a Certified Customer Experience Professional (CCXP), and holds certifications in Voice of Customer, Customer Experience Management, Net Promoter Score and CX Design and Innovation LUMA certified.
A little bit more personal me….
Passionate experience transformation professional and change agent. Sherpa for new and developing customer and employee obsessed leaders. Thought leader and innovator for ways of engaging associates and customers. Spirited entrepreneur. Skilled in business benefits development and systematically embedding experience into an organization. Believe that brands who win choose to focus on human and emotional elements. Develops the hearts and minds of others. Firm executor in the 'pay it forward' model. Writer, speaker and artist.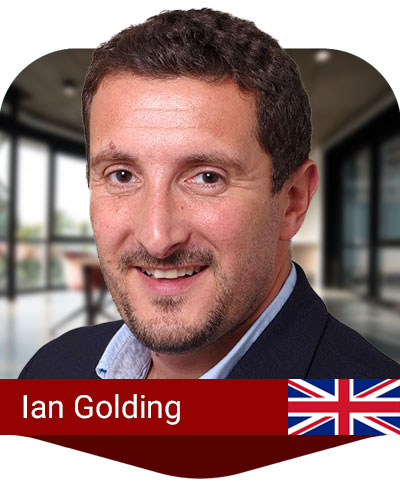 Ian Golding
Ambassador
Blogger, Author & Speaker
CX Trainer
CXC
Ian Golding
Ian, is a Certified Customer Experience Professional and Customer Experience Specialist. A certified Lean Six Sigma Master Black Belt, Ian has spent over twenty years in business improvement, working hard to ensure that the businesses he works for are as customer focused as possible. Based outside of London, Ian lectures worldwide and is a workshop rock star when it comes to teaching the basics of Customer Experience.
Our Board of Directors
---